I can't really explain why I haven't posted in so long…I'm sorry, I just don't know…  I had this mostly typed and now I'm editing it and posting it.
The minute I read about the Costume Institute's (at the Metropolitan Museum of Art) newest installation, Savage Beauty, Alexander McQueen, I knew I would see it (I've seen every exhibit since the Institute opened by Diana Vreeland in 1971, except 2-1) the lone men's exhibit, which my ex gay husband made me miss by insisting it closed a different day than it actually did and the super hero exhibit as I thought that was the stupidest idea ever and in some ways disrespectful as what real woman would walk around in some of those get ups. I was a conscientious objector to that one) so of course I would see it. 
My glam BF and I made plans to see it on a Friday night in June, as the museum is open late. Qu'elle tragique. So did every other tourist and New Yorker present in the City. Hundreds of people on the steps, a slow line getting into the Met, a line to pay, and then-an HOUR wait outside the actual gallery inside the museum. We took one look at that line, then each other and left.  But we did walk through a lovely exhibit, Pastel Portraits. Several artists, including Gainsborough, Copley, and even Vigee Le  Brun... (Marie Antoinette's portraitist) among others offered their beautiful 18th century society portraits. I love portraiture because you get to see the clothes and I am singular in my devotion!  Oh and so it shouldn't be a total loss we went to the gift shop. I bought a gorgeous book of Erté sketches 1912-1935 and all in black/white (perfect for Xeroxing or scanning to use for invitations). And I bought beautiful earrings that are copies of something the Met has in its Art Deco Collection. (I wasn't looking for earrings for my black gown, I've already shown you the earrings I'm going to wear to my black tie event. But these are better, n'est ce pas?  I like that they have black in them!! I thought I had a picture but alas I do not, I'll take one tonight and post it).  We rearranged our schedules to come back at 9:30 the next morning, praying that when it first opened the museum would be less crowded. 
Sadly, my glam best friend over-slept and missed our time together, I waited 1/2 an hour and went inside. The people watching outside was a lot of fun too, it being clear where all the fashionable dressed people were going! It was indeed less crowded, I went in quite dazzled.
 We made new plans for the following Friday which was the Friday before July4 so the office was closed. We thought, a weekday would be better. And it was. 9:30 again.  
It was one of the best exhibits I've seen, on par with Diana Vreeland's 18th Century and the Saint Laurent exhibit. Every room had a different look and feel but each was very very Alexander Mcqueen.  There were distressed wooden platforms, metal walls, cubbies for each accessory and even videos of old shows playing on the ceiling!!! 
Clearly money was spent on this-how refreshing that is, since museums so seldom have any money to spend on exhibits. After the debacle that was Karl Lagerfeld and Chanel sponsoring that exhibit in 2006, I thought the company that owns the designer name should never sponsor its own history. But I have come to understand that it was just Karl who should not have sponsored Chanel's history. He was in a modern only mood-how can one present a history with only modern clothes??? Don't get me wrong, I loved seeing his work but he didn't show anything from Gabrielle herself!!??!?!  And what is the House of Chanel if not for Gabrielle????? 
I found out, months after the McQueen show, at an FIT lecture by Andrew Bolton, the curator, that not only did LVMH, McQueen, American Express, and Condé Nast sponsor this show but the museum had some of the same designers and producers that did the McQueen runway shows design the exhibit!!! They really were brilliant. The clothes were lent by friends but mostly by the McQueen archives and were so exactly representative of the too few years McQueen worked.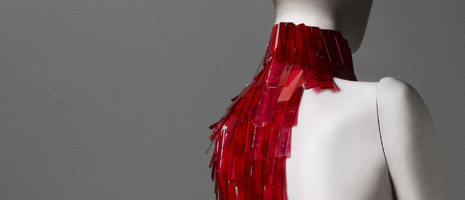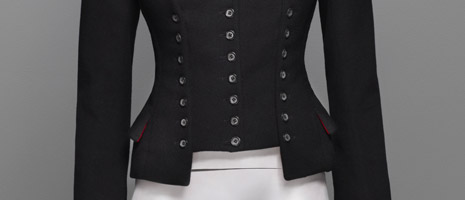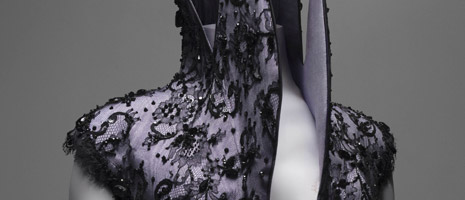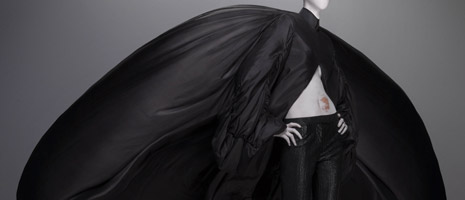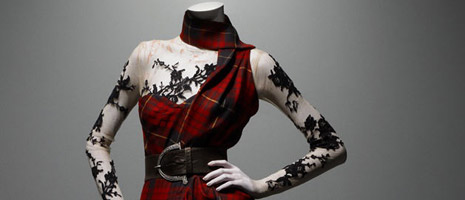 You get the idea, yes??? http://blog.metmuseum.org/alexandermcqueen/objects/
I have seen other magnificent fashion exhibits over the years I have sought them out... But this is the first one I know of that was a BLOCKBUSTER. Yes, fashion people know all about AM, but the pink t-shirt, khakis, sneaker wearing crowds from Iowa?????? Why would they flock to see it? 
I used to be able to travel around the world seeing fashion exhibits but they have become very popular in themselves. There are now too many and they are too far flung (Dior in Russia, a larger Balenciaga exhibit in SF, several in London and Paris) for me to see them all, which makes me so very sad. 
In the days of Diana Vreeland the Met's exhibit had its own floor!  Yes. Sigh…it was the basement, but there was plenty of room for the exquisite history presented to me and all the corners were used to their best advantage. She made money for the museum but it was a struggle, even for her. She did create the absolute fashion party of the year, the opening night party, which still goes on...As does my joy in seeing each exhibit.